Virtual Community Workshops: Afrofuturism & Comics
79
79 people viewed this event.
Artist lead workshops geared towards teens and adults.
About this event
Afrofuturism in Comics Workshop
This 2 session class will utilize sequential art 'Comics" to create visual stories that focus on the philosophy of Afrofuturism. During these workshops, participants will learn the principles of creating sequential art for the purpose of cartoon publication. Afrofuturist and Cartoonist, Tim Fielder will share his approach for Script Writing, Panel to Panel Layout, Breakdowns, Lettering, Illustration, and Coloring. The workshop will be experiential but there will be an opportunity for participants to receive feedback with regard to their own characters and or drawings.
Class Dates: February 19 and 26
Time: 1:00 – 3:00
Venue: Zoom
Artist Facilitator: Tim Fielder
Virtual Community Workshops @ The Children's Art Carnival are made possible with funding from West Harlem Development Corporation.
To learn more about The Children's Art Carnival: Click here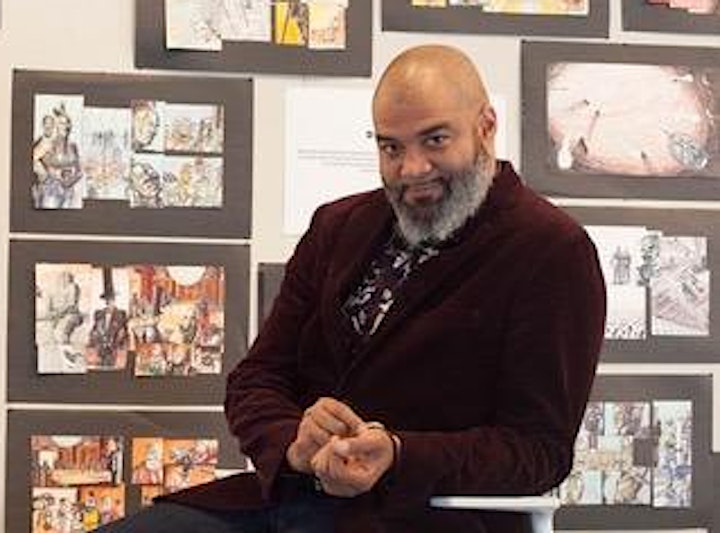 ABOUT THE ARTIST – A native of Mississippi, Tim Fielder is an illustrator, cartoonist, animator and OG Afrofuturist. He is the founder of Dieselfunk Studios, an intermedia storytelling company, and is an educator for institutions such as the New York Film Academy and Howard University. Tim has served clients such as Marvel, Tri-Star Pictures, Ubisoft Entertainment, and the Village Voice, and is known for his TEDx Talk on Afrofuturism. He won the prestigious 2018 Glyph Award, and his work has been showcased in the Hammonds House Museum, Exit Art and NYU Gallatin Gallery. He attended Jackson State University, School of Visual Arts, and New York University. He lives in New York City.